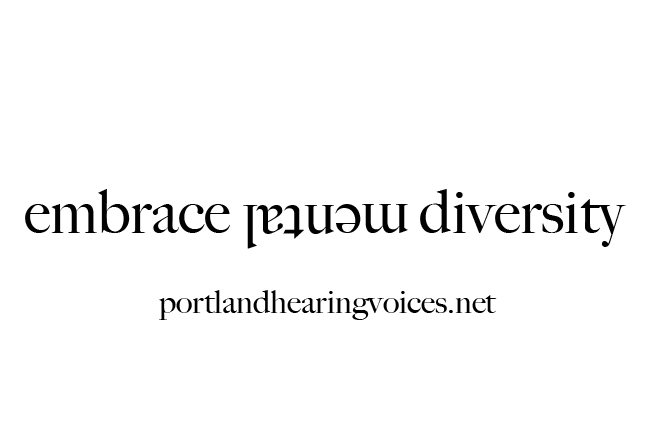 About Us
Portland Hearing Voices is a community group to promote mental diversity. We create public education, discussion groups, training, and community support related to hearing voices, seeing visions, and having unusual beliefs and sensory experiences often labeled as psychosis, bipolar, mania, paranoia, schizophrenia, and other mental disorders. We aim to reduce fear and misunderstanding, question stereotypes, promote holistic health options, overcome isolation, and create a more inclusive community.
We have a mental diversity approach that reaches beyond narrow medical diagnosis and treatments, and we explore creativity, spirituality, trauma, and sensitivity in our experiences. We are proud of who we are and we are not crazy. We help each other learn from and live with our mental differences, and we struggle with emotional distress and pain while also valuing positive sides of what we go through. Non-judgmental; people taking medication, not taking medication, and considering options are welcome.
We ask the question, What do these experiences mean to you? and welcome a variety of diverse personal interpretations and ways of coping. Throughout history the mysterious meaning of "madness" such as hearing voices has defied any final explanation, and we seek to create greater understanding through dialog and community-building in a non-judgmental and respectful atmosphere. Groups and events are donation based and low-income accessible; no one turned away for lack of funds.
We refer people to community resources and counselors who share our perspective and who offer accessible services. We also support people in learning to take greater control of our lives, including exploring coming off medications safely. (Portland Hearing Voices does not offer medical advice or treatment.)
Portland Hearing Voices is led and managed by people with lived experience of hearing voices and psychiatric diagnosis. We are currently all-volunteer and seeking funding and resources, Founder is Will Hall; Program Director is Kate Hill.
What are the goals of Portland Hearing Voices?
Public education events
Regular peer-run Extreme States and Voices group. All groups low-income accesible.
Training and consulting for mental health, social service providers, and the community on mental diversity.
Resource referrals to non-judgmental counseling, holistic healthcare, and other support.
Monthly KBOO FM program Madness Radio, first mondays at 11:30am
Website portal to resources and learning about hearing voices and unusual sensory experiences.
Opportunities to meet each other and weave a community together.
How can we help Portland Hearing Voices?
Make a financial contribution; all donations are tax-deductible, payable to Portland Hearing Voices/MHAP
Volunteer, spread the word, invite a training for your group or agency
Participate in our events and groups
Find out about Support Groups and Upcoming Events
Download our informational flyer
Check out photos on our Flickr stream
Listen to our radio Public Service Announcement
Media Coverage
Newsweek Magazine: Listening To Madness with Will Hall
Watch the video on KATU local news.
Read the article on the KATU news website.
Read the Portland Mercury newspaper cover story about Portland Hearing Voices.
Read the Blogtown write-up on the Mercury website.
Further resources