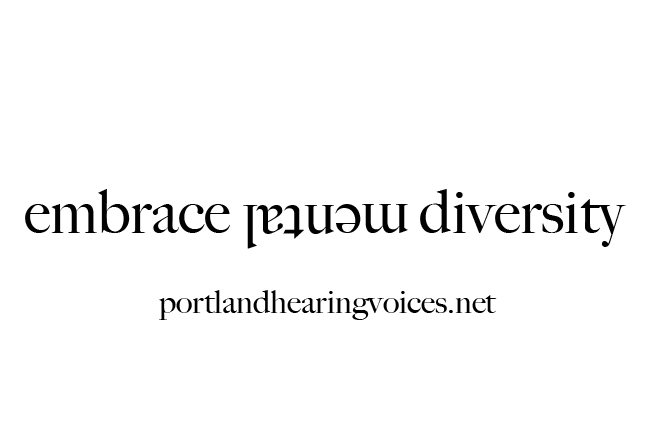 "I've never been able to talk about this before."
"I didn't think I'd ever meet other people out there like me."
"This is the only place I've found where I can be myself."
These are just a few things people have said about Portland Hearing Voices community support groups -- we're making a real difference in people's lives. We're celebrating our third year of bringing a new vision of mental diversity to Portland and beyond -- and we're looking forward to the future.
Our groups and counseling resources help people with a diagnosis of psychosis, bipolar, and schizophrenia -- as well as people who've never been diagnosed -- find ways to live with mental difference, and our education fosters greater respect for diversity in the community. Portland Hearing Voices supports people to avoid hospitalization, find friendship, gain greater control over our lives, and liberate ourselves from fear, isolation, and discrimination.
We're helping lead a community transformation with a simple belief: listen to our experiences. There is meaning in madness, and there is potential growth in our distress. The human mind is far more mysterious than a label or diagnosis could ever encompass, and what gets called a disorder is also intertwined with gifts of sensitivity, creativity, and spirituality. There are many ways to live beyond the narrow medical view of labels and doctors. We are not problems to be solved: we are possibilities waiting to unfold. It is time for us to come out of the shadows, find each other, and take our place as equals in the community.
With volunteers and a small budget we've made a huge impact. Please donate to support our important work!
-- Will Hall, Founder, & Kate Hill, Director, Portland Hearing Voices